Attend to meet your peers               
  CIGRE 2018 APP

or use the link m.cigre.org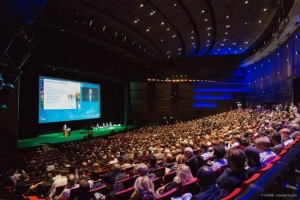 The CIGRE Session is a the leading event for Power Systems Experts.
It is a unique opportunity to meet your peers.
Based on technical conferences, specialized workshops, dedicated working groups, poster Sessions, social events, the CIGRE Session is a complete networking opportunity.
More than 3 290 international delegates are attending a fully dedicated technical programme : technical conferences, poster Sessions, working groups.
> Take a look at  CIGRE Session 2018 general programme  – Benefit from early bird registration
WHAT IS CIGRE ?
CIGRE, an international non-profit Association




CIGRE (International Council on Large Electric Systems) is a permanent non-governmental and non-profit-making international association based in France.
It was founded in 1921 and aims to :
Facilitate and develop the exchange of engineering knowledge and information, between engineering personnel and technical specialists in all countries as regards generation and high voltage transmission of electricity ;
Make managers, decision-makers and regulators aware of the synthesis of CIGRE's work, in the area of electric power. Issues related to planning and operation of power systems, design, construction, maintenance and disposal of HV equipment and plants, protection of electrical systems, telecontrol and telecommunication equipment, data management are at the core of CIGRE's mission.
Electricity markets, regulation and environment are also within the field of concern of CIGRE.
National committees
CIGRE Central Office which is based in Paris France, counts 58 National Committees to enhance its relationship and get closer to its Members. CIGRE National Committees offer to its Members direct access to services and supports. CIGRE counts more than 14 000 equivalent Members composed of researchers, academics, engineers, technicians, suppliers, and other decision makers, in over 80 countries.
Study Committees
More than 3 500 experts from across the globe actively collaborate in structured work programmes with CIGRE. There efforts are coordinated by 16 Study Committees which are overseen by a Technical Committee. Research efforts are anchored to four interlinked objectives: designing and deploying the power system of the future, optimizing existing equipment and power systems, respecting the environment, and offering access to information to international key players in the electrical power systems' industry.
New President elected
CIGRE has a new President. Dr Robert STEPHEN, Chairman of the National Committee of South Africa, has been elected President of CIGRE by the Administrative Council during the Session in Paris on 23rd August. Robert STEPHEN has a long CIGRE record as convener of Working Groups, Special Reporter and Chairman of Study Committee B2 (Overhead lines). He is CIGRE' s first President from Africa.
> More information on www.cigre.org
Every two years, an Exhibition is organised in Paris, France
More than 8 500 senior executives, engineers & experts
from the worlwide Power Industry

22 % Utility
21 % Manufacturer
16 % Consulting
14 % Laboratory / Research
14 % Producer
14 % TSO (Transmission System Operator)
10 % Educational Body
5 % Service
4 % DSO (Distribution Sytem Operator)
1 % Regulator
3 % Other
(2016 statistics)
A fast growing event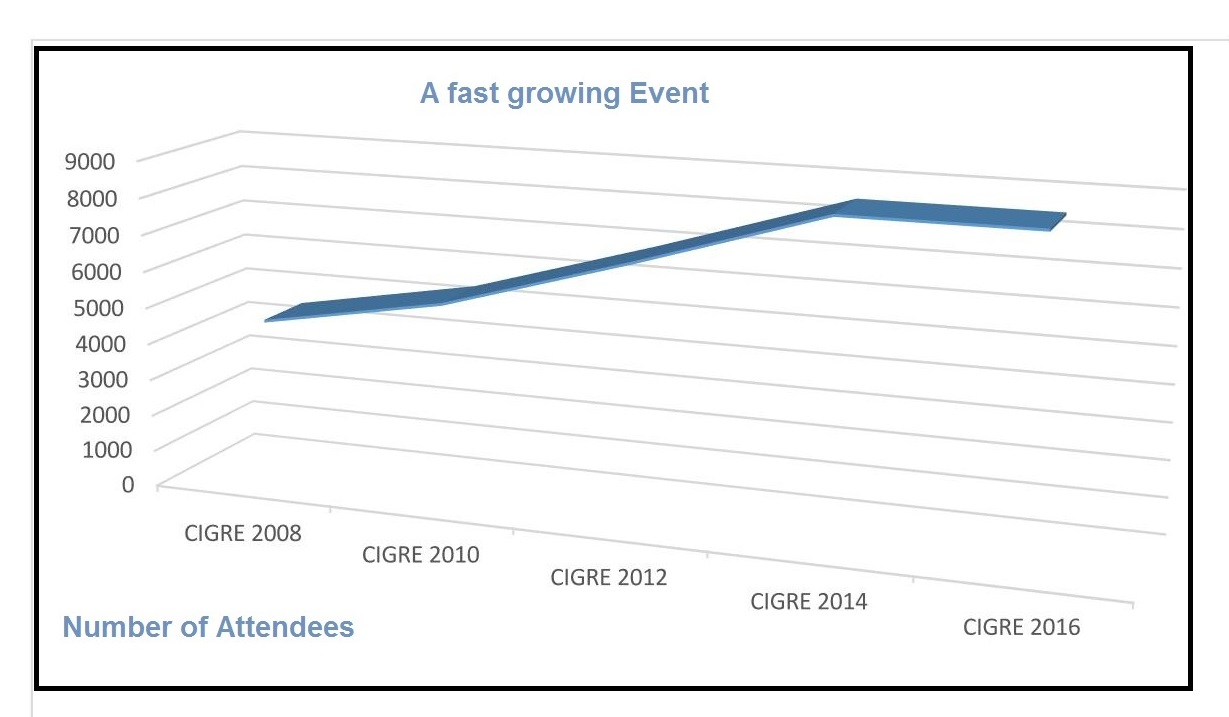 The number of attendees has reached 8 500
Breaking record of 3 290 delegates
Increased number of papers  = 550
(+ 235 papers compared to last Session)
Increased number of exhibitors (249 exhibitors)

Larger Session area > 13 680 sqm
(2016 statistics)
New: organisation of Tutorials
New: online solution to support the spontaneous contributions during Technical Councils.

A unique opportunity to learn, exchange, network
In 5 days :
550 contributions from international senior executives, experts and specialists : more abstracts propositions than ever!    Click here

370 meetings
16 posters
The organizing committee has arranged poster sessions in which papers from the 16 technical councils are presented, giving delegates an opportunity to engage in one-on-one discussions with the authors of the CIGRE papers
a social programme
with a welcome drink and coffee breaks to engage further discussions in a relaxed atmosphere.

a technical exhibition on 3 levels


Products and advanced technologies from around the globe. It includes displays and demonstrations by many of the world's leading manufacturers that supply power generation and transmission utilities with the latest technologies installed in transmission systems.
Cigre Session, the only T&D event
with a REAL international audience

93 countries represented
3 % Africa
4 % Middle East
4 % North America
5 % South America
10 % France
15 % Europe outside EU
21 % Asia Pacific
38 % EU
      (2016 statistics)
Main themes :
Eco design of equipment

Maintenance, refurbishment and life time of equipment

Real time monitoring of equipment and systems

Development of DC solutions

Coordination between TSOs

Public acceptance of equipment

Integration of renewable

Active distribution systems

Information systems

Feedback

97 % of attendees are very satisfied or satisfied with the 2016 Cigre Session

98 % say that the main benefit is to network and the possibility to choose from more
than 550 advanced technical presentations, panel discussions and 16 poster Sessions.
93 % are planning to attend next Session Cigre 2018
98 % would recommend the Session
48 % are only attending Cigre Session
(2016 statistics)
 More information & registration on www.cigre.org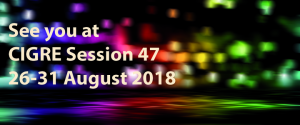 Registrations should be made online before the Session, from mid-January to mid-August 2018 at the latest.
www.cigre.org/Events/Session/Session-2018

No registrations on site in Paris.