Exhibit at Cigre Session,
the leading event for power systems experts
   →  Meet over 10 000 specialists in 5 days !
Cigre Session is a unique opportunity for T&D specialists to meet their peers thanks to numerous networking events, conferences, technical meetings, poster sessions, exhibition and social events.
96 countries represented
3 % Africa
3 % Middle East
9 % North America
5 % South America
9 % France
12 % Europe outside EU
24 % Asia Pacific
35 % EU
  (2018 statistics)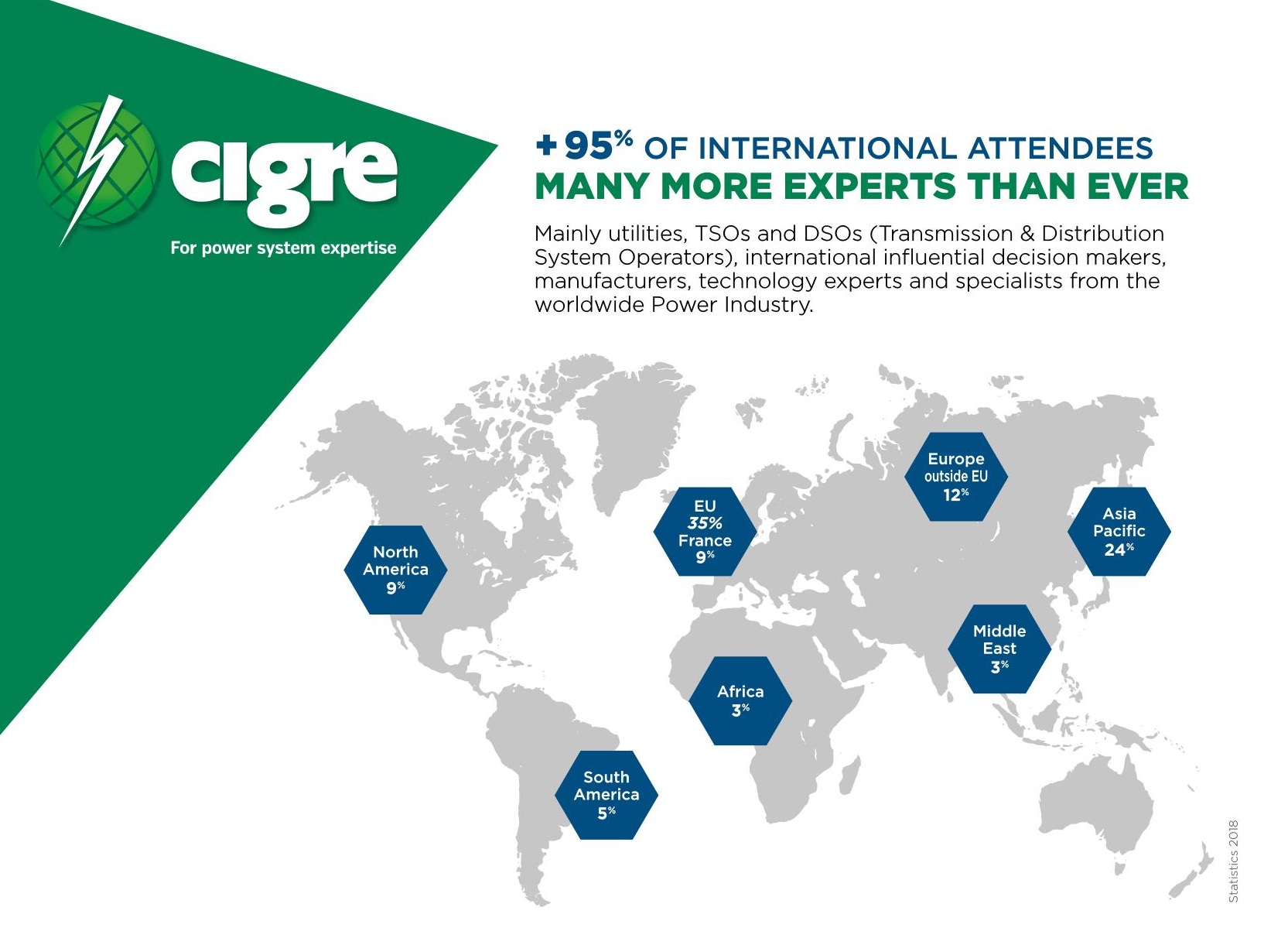 The place to be



Big names of the Industry have chosen CIGRE Session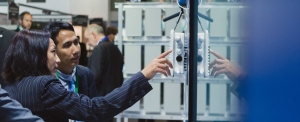 to launch key products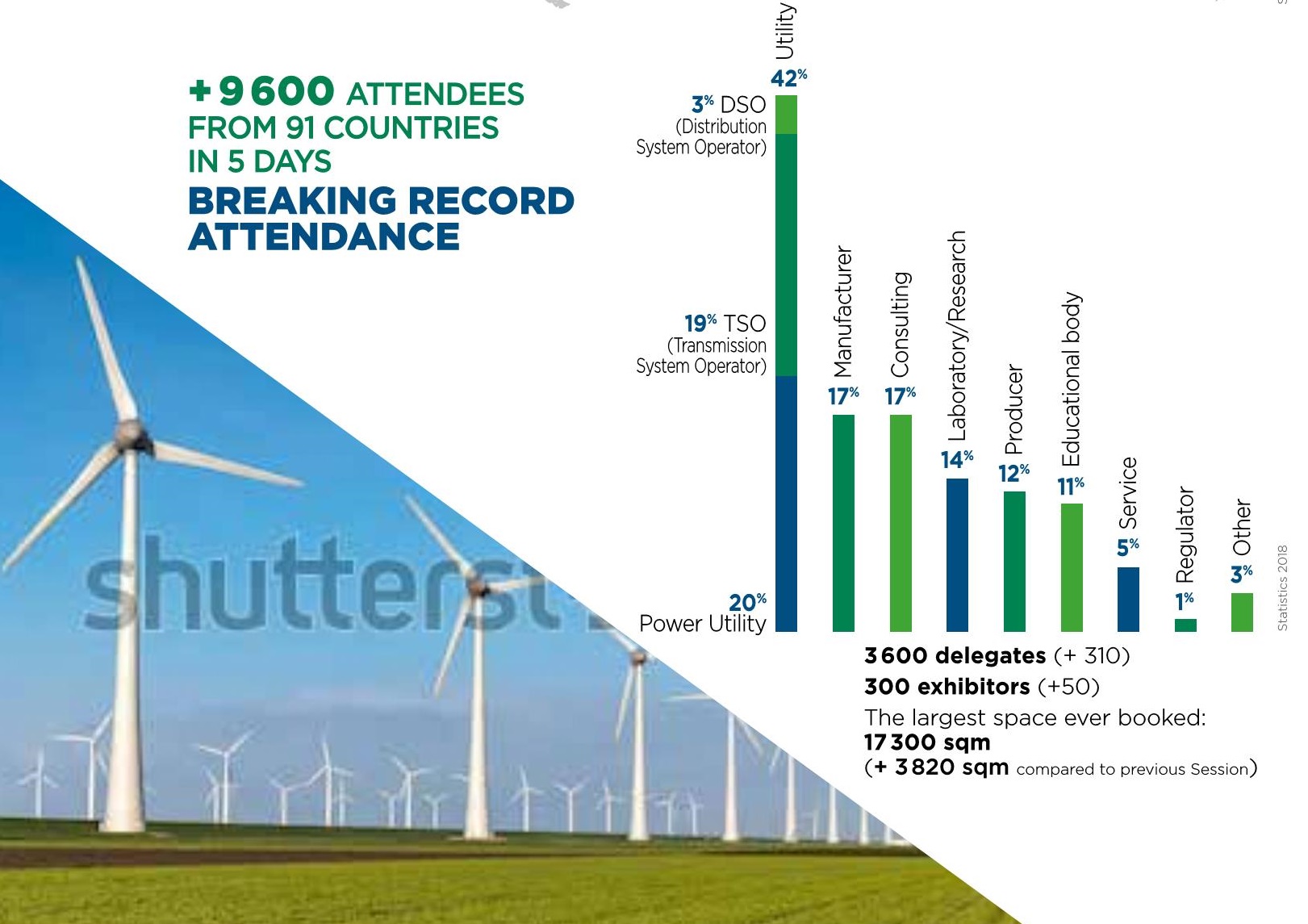 The number of Exhibitors keeps increasing
> Register here to CIGRE 2022 Exhibition

What are the Session main topics?
Rotating Electrical Machines
Power transformers and reactors
Transmission & distribution equipment
Insulated Cables
Overhead lines
Substations and electrical installations
DC systems and power electronics
Protection and Automation
Power system development and economics
Power system operation and control
Power system environmental performance
Power system technical performance
Electricity markets and regulation
Active distribution systems and Distributed energy resources
Materials and emerging test techniques
Information systems and telecommunication
What products and services are exhibited?
High Voltage Equipment
Monitoring, control and protection equipement
Measurement, testing and diagnostic tools
Know-how and expertise from electricity companies and consultants
Training tools and technique
 Who is attending?
42 % Utility (3% DSO Distribution System Operator + 19% TSO Transmission System Operator + 20% Power Utility)
17 % Manufacturer
17 % Consulting
14 % Laboratory / Research
12 % Producer
11 % Educational Body
5 % Service
1 % Regulator
3 % Other

(2018 statistics)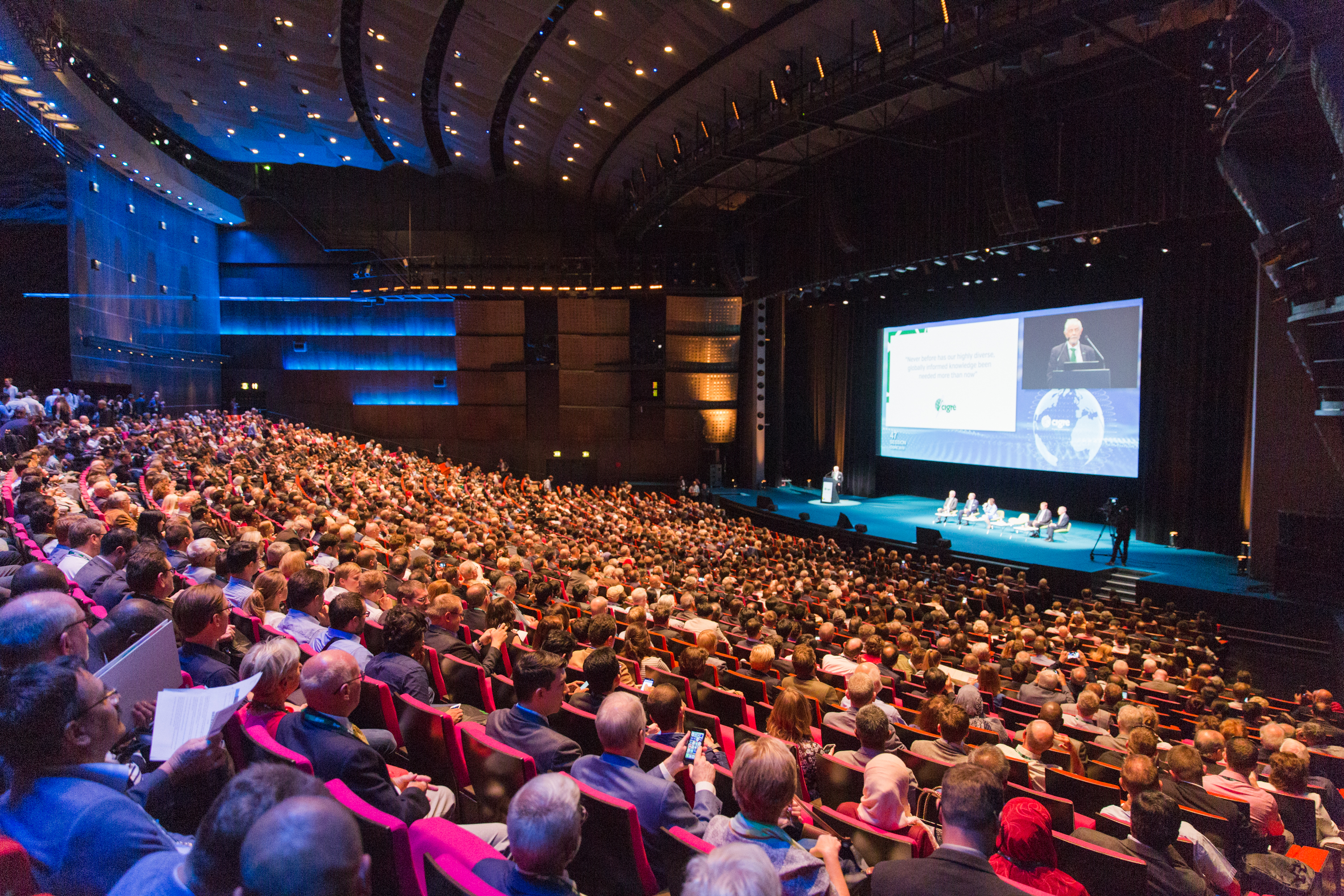 Feedback Attendees
92 %

of attendees were very satisfied (42% hyper satisfied)
98 % highly recommend the Session (65 % of which very strongly)          
43 % are only attending this event 
95 % are planning to attend next Cigre Session
47 % say that the main benefit is exposure to new technologies and best practices presented by more than 300 exhibitors        
57 % say that the main benefit is to have access to hundreds of Advanced technical presentations, panel discussions and 16 Poster Sessionss
69 % say that the main benefit is to network
 Feedback Exhibitors
96 % of

exhibitors did rate their participation at Cigre 2018 as very satisfactory or satisfactory
82 % got in touch with new clients

85 % say that the quality of contacts was excellent or good
 96 % are planning to exhibit next Session

                                                                        


For exhibitors, CIGRE
has been the best opportunity to :
 Get in touch with new clients  = 82 %
Improve the corporate image  = 60 %


Go ahead with businesses in progress = 49 %                 Increase business = 35 %

Do business with other exhibitors = 32 %           Launch a new product, innovation = 28 %

Discover new businesses  = 23 %                                         Enter a new market =  21 %


VISIT THE SESSION WEBSITE >   CIGRE Session