3 kind of stands available   (prices CIGRE

2024

)

Basic, Plus and Premium



Basic Stand (Raw Space)



Mobile App registration
Daily cleaning of the stand
General security
Electronic invitation cards for visitors (e-banner)
Basic Insurance
Internet connection
No power supply
795 € (excluding VAT) / sqm
Minimum area 30 sqm
---
Shell stand FORMULE PLUS

= Basic stand
+ Partitioning and division walls (grey laminate)
+ Carpet (grey)
+ One sign per open side
+ 3 spotlights on rail / 9 sqm
 No power supply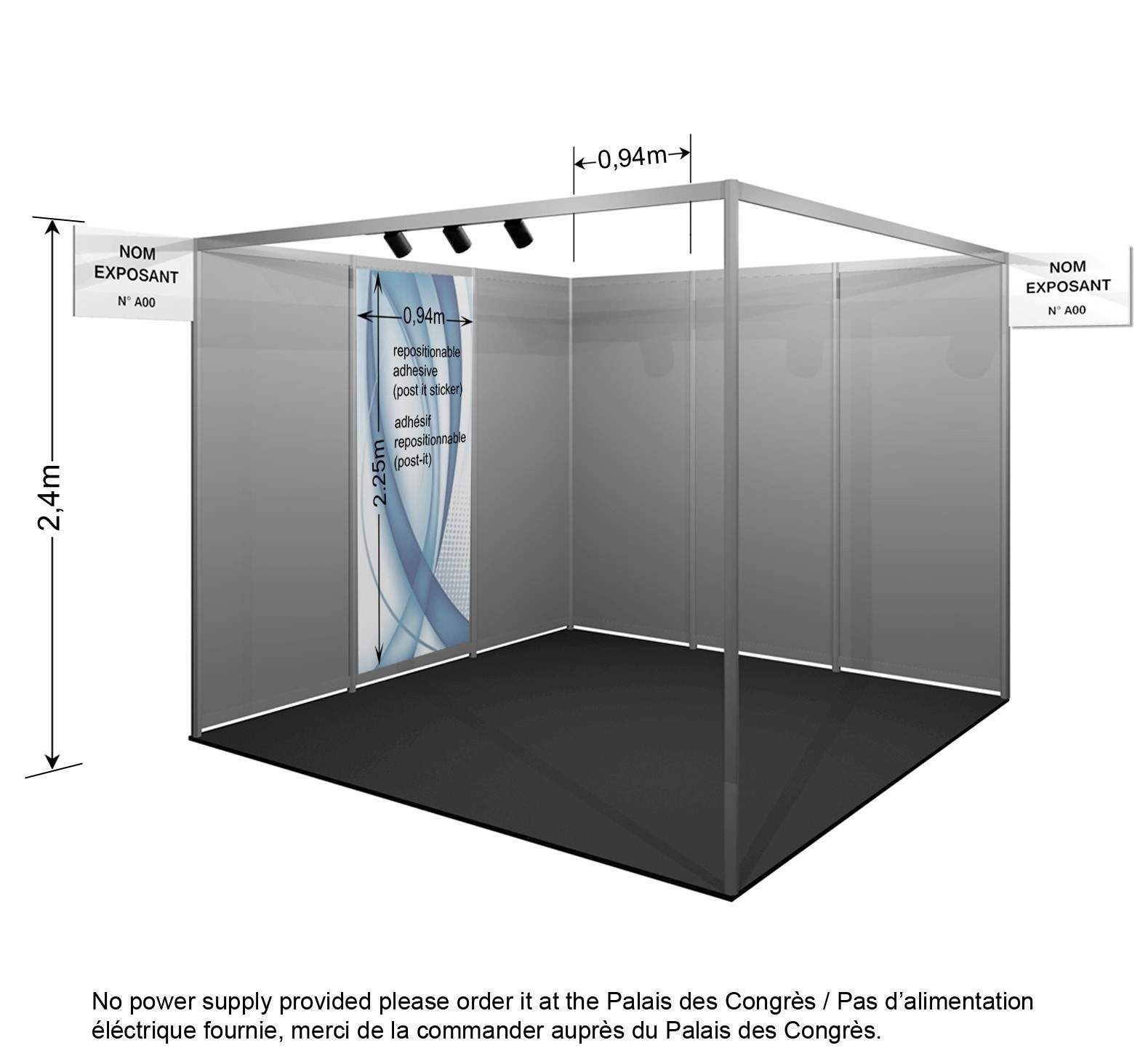 Stand of 9 sqm, picture is not contractual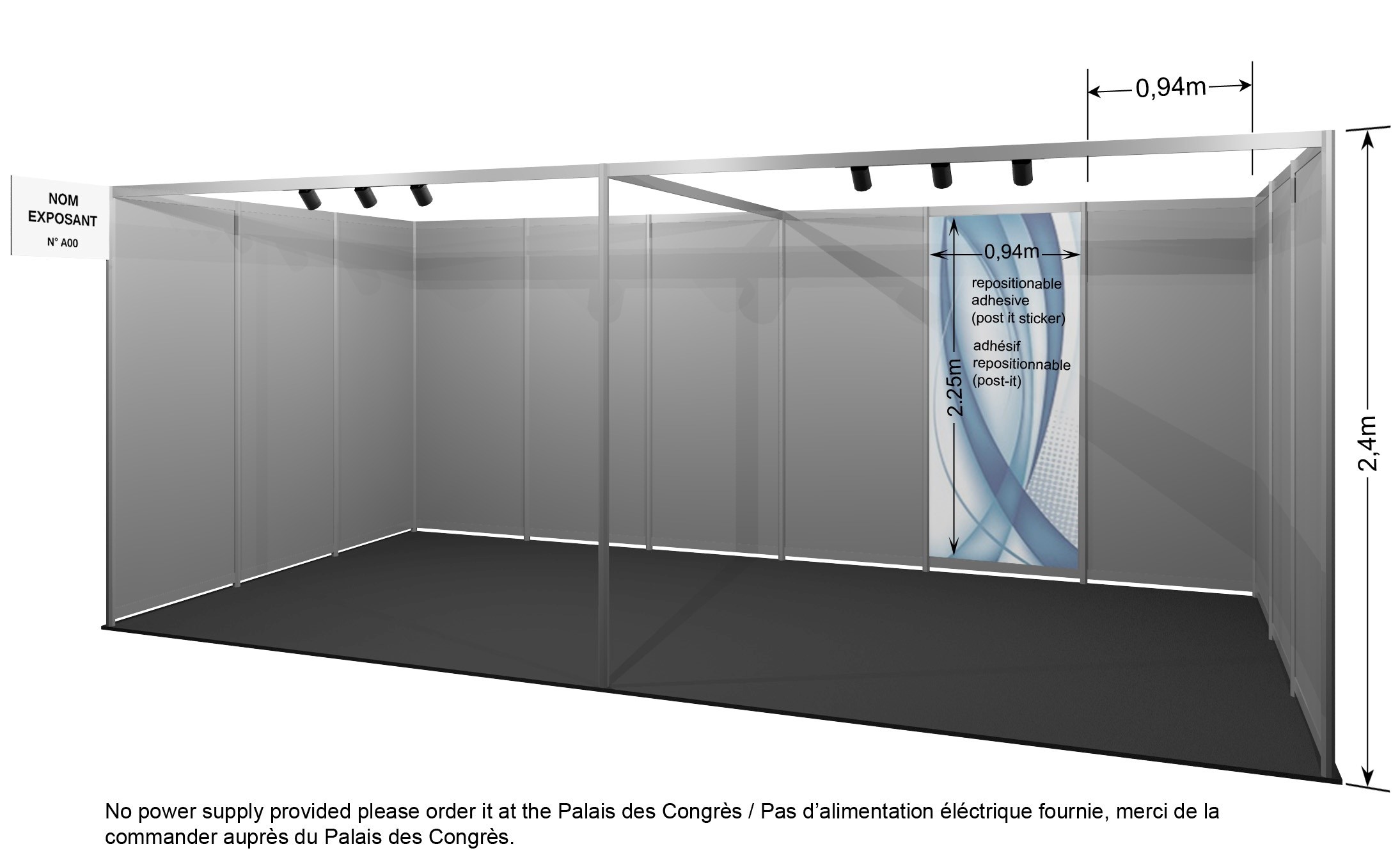 Stand of 18 sqm, picture is not contractual

The sticker post it gives you an idea of what is possible to do but is not included in the package.

[/one_half]
995 € (excluding VAT) / sqm
Minimum area 9 sqm
---
Shell Stand PREMIUM

= Basic stand
+ Personalized choice of colors for walls (textile) and carpet
+ 1 welcome desk with a shelf
+ Logos and company graphics on the welcome desk and on the walls
+ Storage room (1 sqm up to 15 sqm – 2 sqm for larger stand)
+ 1 spotlight LED 30W / 3 sqm
   No power supply
  Picture is not contractual, supplied without furniture
1 295 € (excluding VAT) / sqm
Minimum area 9 sqm
Mandatory services :
Exhibition staff badges + badge reader =

320 € (excluding VAT)
An electronic badge reader will be provided for each booth 
Pack Services :
Access to Press Room
A press room is organized for the journalists attending the Session,  open to exhibitors wishing to leave Press kits, Press releases or any Press materials dedicated to journalists.
Access to a Job Center
A Job Center is organized for all the attendees during the Session.
Exhibitors are invited to post their job offers and look at résumés (on the mobile App).
Working rooms & Meeting rooms fully equipped,
A working room as well as a meeting room are proposed to each exhibitor, for business meetings, for staff meetings or for sales presentations (up to 20 people).
Access to the Opening Ceremony
The Opening Ceremony is on Sunday 25 August, 2024.
Exhibitors are invited to attend the conference and the cocktail afterwards.
Stand from 9 to 18 sqm = 815 € (excluding VAT)
Stand from 19 to 36 sqm = 1 370 € (excluding VAT)
Stand above 37 sqm = 2 330 € (excluding VAT)


________________________________________________________________________________________________________________________________________________________________________________________________________________________________________________________________________________________________________________________________
The allocated space might be 20 % smaller than the space ordered
________________________________________________________________________________________________________________________________________________________________________________________________________________________________________________________________________________________________________________________________
> Exhibit up to 5 days (from Monday 26 August to Friday 30 August 2024)

> Price = 590 euros (VAT excluded) due on registration, non refundable
> Package : 1 desktop display with name of your company – 1 high chair – Power & electrical outlet – exhibition badges
Advertisement of your company in the mobile App
Access to the Opening ceremony, Press center & Job Center
Possibility to give a 25 mns pitch at lunch time hours  : first come, first served
> Limited space : first come, first served (space reserved for a maximum of 35 start-ups)
Picture is non contractual
There will be no spot and no computer on the booth
Requirements to apply as a start-up :

> Have an independant legal body
> Be up to 5 years old
> Size of 50 people maximum
> Be aimed at creating, improving and expanding a scalable, innovative, technology-enabled product in the field of CIGRE activities
> A start-up who would already have reserved a booth for CIGRE 2024 exhibition can take part, but cannot cancel its booth
> Comply with the exhibitor's rules & accept the general conditions
> Only small devices & products for display are accepted
A committee will validate each registration
 Prices Cigre 2024